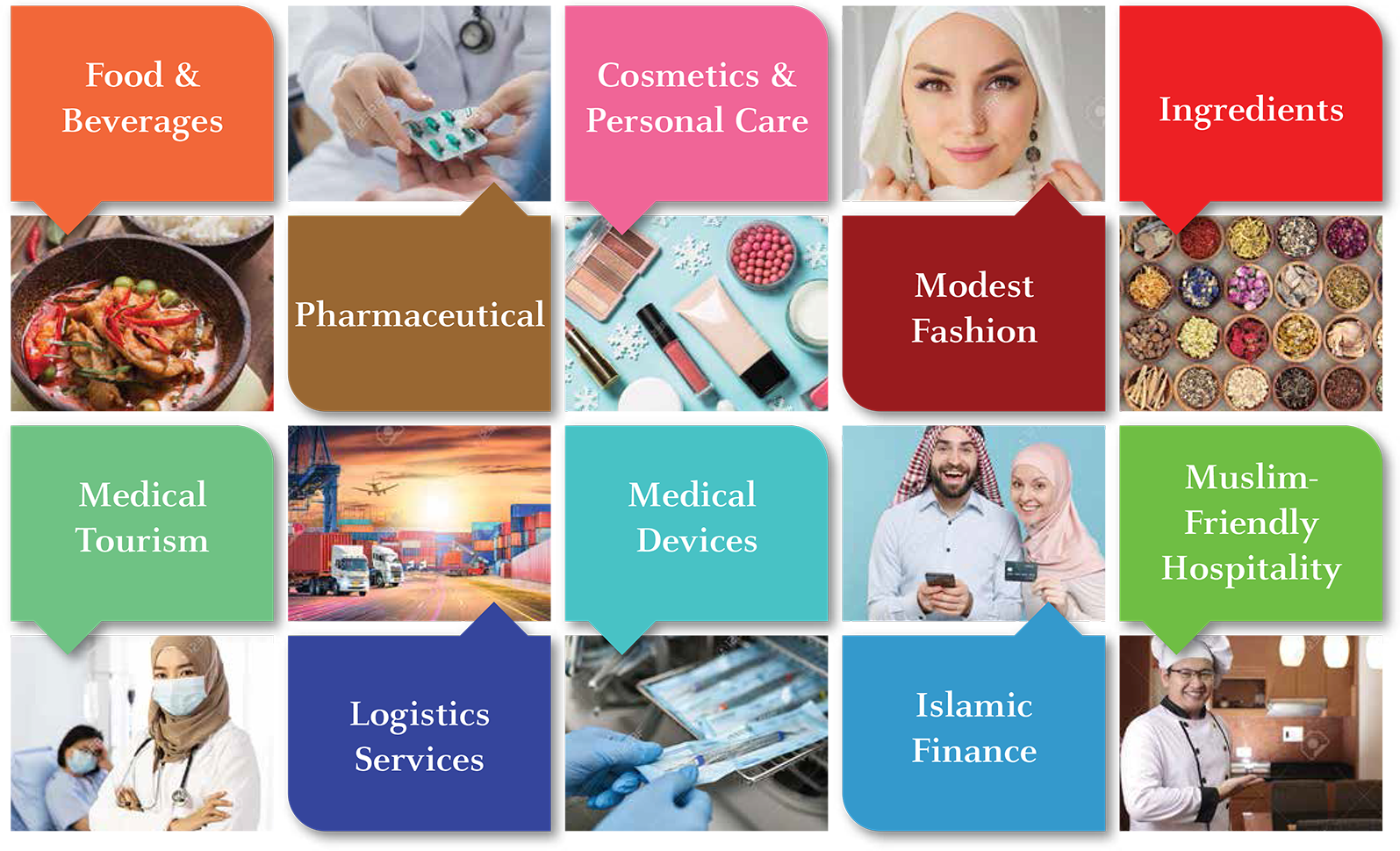 Halal sector consist of halal products or services contributing to the overall socio-economic development.
e-ReHal is an e-coaching tool to assess and build readiness of industry players for halal compliance with interactive guiding modules on halal certification processes and procedures.
For further information, please visit https://hkc.hdcglobal.com.
Who could join?
Companies yet to be halal certified
Produce products related to the halal industry (Food & beverages, cosmetics and personal care, pharmaceuticals etc)
Possess own premise
Have operated for at least 6 months
Benefits:
Provides better understanding on the halal certification processes.
Industry players able to assess their readiness towards halal certification.
2. HALAL SOURCING PARTNERSHIP PROGRAM (HSPP)
HSPP is a grant program designed for high potential SMEs in halal promoted sectors for business expansions locally and internationally. Through collaborative efforts with multinationals and local large companies, these potential SMEs will be nurtured and facilitated to be their supplier and ultimately become our Halal Home Grown Champion companies. For further information, please visit http://hspp.hdcglobal.com
Who could join?
Registered companies in Malaysia and Halal certified
Preferred HACCP, ISO 9001 certified
Sales turnover between RM300,000 to RM50 million
Actively in operation for the last 3 years
Benefits:
Potential SMEs able to uplift and enhance their capability for business expansion.
Understand the requirements to be a supplier for large / multinational companies
Explore available business opportunities with large/multinational companies.
Halal Incubation Program for Entrepreneurs (HIPER) is one of the latest programs initiated by HDC to catalyse the growth of Halal enterprises. Unlike typical incubation programs that provides physical office space and financing assistance, HIPER offers business consultancy and advisory to participants. It caters to Halal enterprises with the intention to uplift capability and capacity, enabling them to compete in the larger market section, both locally and globally.

Who can join?
HIPER is open to all Halal or Halal-ready enterprises from Micro, Small and Medium enterprise (MSMEs), Local Large Companies (LLC), Government Linked Companies (GLC), Government Linked Investment Companies (GLiC) and/or its subsidiaries.
Benefits:
Access To Funding
By identifying the financial needs, HIPER will assist enterprises to re-evaluate funding options at their disposal.
Better Network Channels
Through engagement sessions, enterprises will have access and networking to some of the industry experts, related agencies and other relevant programs.
Business Development Advisory
The HIPER recommendations are customised to individual participant's needs by looking into several business development perspectives.
This program serves as an effective platform for the transfer of information, knowledge and experiences on Halal ecosystem by means of workshops and seminar by industry experts; Multinational and large local companies.
The topics covered include Industry Best Practices, sales and marketing, productivity to SMEs, Food Safety, quality management systems and many more, which is targeted at SMEs which are yet to be halal certified and;
Who can join?
SMEs that are yet not certified as Halal are encouraged to join us and must:
Manufacturer or service provider of products related with Halal industry (Food & beverage, slaughterhouse etc)
Have owned premise
In operation for at least 6 months
Benefits:
Enhance their competitiveness and readiness in the business.
Increase knowledge and understanding on the requirements by MNCs
Improve their overall business operations.
This program aims to promote the skills certification; Sijil Kemahiran Malaysia (SKM) recognized by Ministry of Human Resources (MoHR) through Recognition of Prior Achievement / Pengiktirafan Pencapaian Terdahulu (PPT) method. It also one of the key medium in attaining a large numbers of experienced and skilled individuals and become a platform to promote the functions and roles of HDC as an Industry Lead Body (ILB)  in addressing the skills gap job especially in Halal Industry.
Who can join?
Open to anyone who has the skills, knowledge and experience in Halal field regardless of when, how and where they were obtained, either through work experience, life experience or training (formal or informal).
Industry player/Companies
Slaughterhouse
Government agencies/Regulator/JAIN/MAIN
Universities/Academician
Benefits:
Participants understand the importance of skilled workers in the Halal industry perspective and the support from HDC, JPK, and JAKIM in the empowerment of skills training through the National Skills Standards.
Aware of the functions and roles of HDC as Industry Lead Body (ILB) in addressing the skills gap job especially in the Halal industry.
Participants can cooperate and involve in developing the competencies of talent in the Halal industry.
A platform for HDC to recognize/identify a pool of experienced and skilled individuals of the Halal industry.