WHBC Aiming to Boost Local Halal Industries in a USD3 Trillion Market
Petaling Jaya, 2 October 2023, WHBC News Report: The World Halal Business Conference Circuit (WHBC Circuit) 2023, an esteemed industry event organized by Halal Development Corporation Berhad (HDC), is set to expand its global reach following its remarkable success in Australia last year. WHBC is coming to London, United Kingdom, from the 27th to the 28th of October 2023.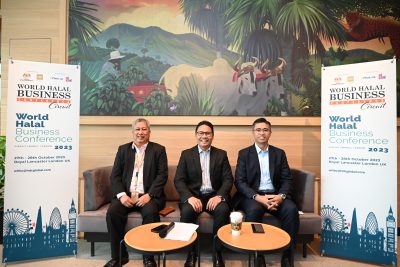 Organized by HDC and hosted by the Ministry of Investment, Trade, and Industry (MITI), WHBC Circuit 2023 London aims to make a significant contribution to the development of the halal industries in both Malaysia and the United Kingdom, as well as across the European Union.
Under the theme "Halal Opportunities in a Borderless World," WHBC Circuit 2023, now in its 15th edition, will leverage the presence of key government officials from Malaysia and the United Kingdom, industry leaders, businesses, trade councils, and civil society representatives from around the globe to engage in discussions, endorsements, and networking opportunities during this two-day conference.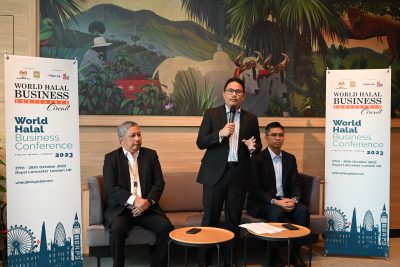 Khairul Azwan Harun, the Chairman of HDC, emphasized the conference's core focus, stating, "WHBC Circuit in London will center on three key pillars: investment promotion, trade negotiations, and nurturing Halal skilled talents. We will address pressing industry challenges with a view to fostering wealth creation and promoting Halal business opportunities among industry players. Following the event, we will maintain engagement with the industry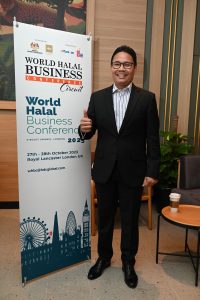 through a series of initiatives involving major halal industry stakeholders to sustain momentum in the lucrative Halal industry."
The United Kingdom and Malaysia share a robust trading and investment relationship built on mutual recognition of its value for sustainable economic growth. The conference will explore opportunities for collaboration across various sectors, including food & beverages, pharmaceuticals, cosmetics, supply-chain, financial services, Environmental Social & Governance (ESG), and technology sectors.
Delegates at the two-day conference will gain valuable insights from the Thought Leaders session, featuring 40 panel speakers and moderators, driving forward an agenda that includes topics such as Resilient and Stronger Economic Integration, Building A Halal Sustainable Future with ESG Trends, Enabling Business Agility in the Integrated Ecosystem, Enhancing Sustainability in the Food Industry, Opportunities for Start-ups in Halal Healthcare and Tourism, and Intensifying Digital Integration in the E-Commerce Ecosystem.
On the second day, presentations will cover topics like Compliance with UK Law, Clarification of Misconceptions Surrounding Halal & Global Trade in Halal Products and Harnessing Islamic Finance to Accelerate the Achievement of Sustainable Development Goals.
WHBC Circuit 2023 also seeks to extend Malaysia's Halal Diplomacy to the world and further reaffirms Malaysia's commitment to fortify global halal ecosystem.
HDC's Halal Training Institute (HTI) will conduct several training sessions to raise awareness of Halal practices, provide updates on the Halal certification process, and encourage discussions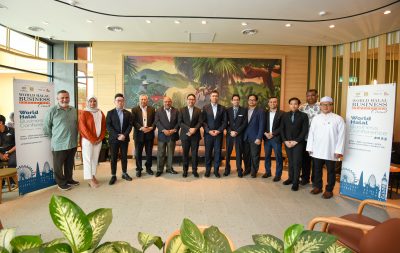 among delegates. Additionally, the Halal Industry Field Trip Program will facilitate knowledge exchange between successful Malaysian entrepreneurs and their UK counterparts.
Azwan also announced the participation of key strategic partners, including Halal Food Authority, UK, ACO Water Management Sdn Bhd, Fraser & Neave Holdings Berhad, CPL Aromas (Malaysia) Sdn Bhd, Ramly Food Processing Sdn Bhd, London Tea Exchange, UK, Thenoor, Malaysia Aviation Group Berhad, Ramly Food Processing, Ketengah Holding Sdn Bhd, and Digital Panacea, Malaysia. Supporting agencies for this conference include MATRADE, JAKIM, MIDA, MARA, and the Ministry of Foreign Affairs.
Azwan invited key decision-makers, diplomatic envoys, industry leaders, and government officials to attend this important conference. Currently, the top participating countries for delegates are the UK, Europe, Malaysia, Singapore, the Turkiye, and OIC countries, with efforts to attract more delegates from Africa and West Asia.
Admission for all sessions is chargeable at RM1,000.00 for Malaysian delegates and GBP300 for UK and international delegates. For more information about WHBC Circuit 2023 and to register, please visit whbc.hdcglobal.com.
Source : Tribune International